SITE ANNOUNCED WHERE LONE MOUNTAIN NEVADA TEMPLE IS TO BE BUILT!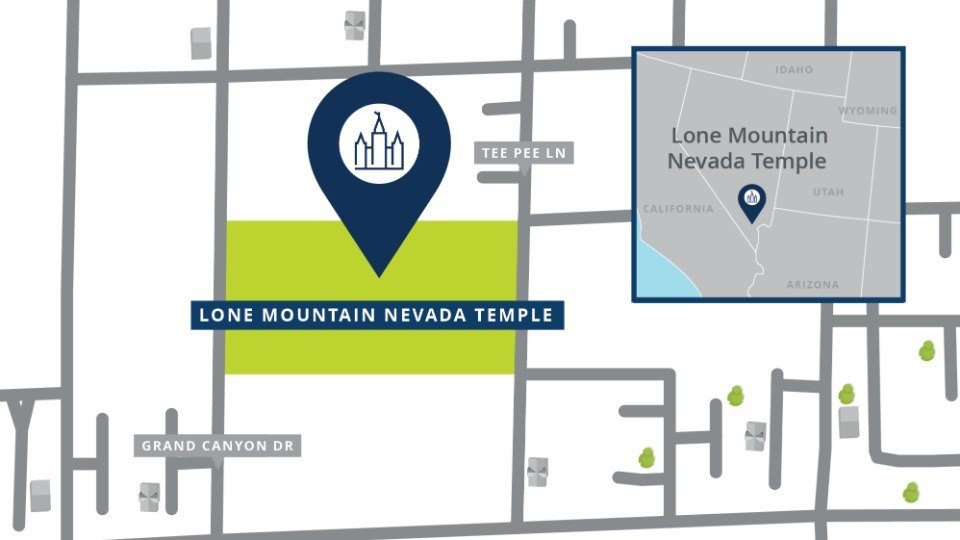 This article was contributed by a local member of The Church of Jesus Christ of Latter-day Saints. The views expressed may not represent the views and positions of The Church of Jesus Christ of Latter-day Saints. For the Church's official site, visit churchofjesuschrist.org.
12/12/2022
On Monday, December 12, 2022, the First Presidency of the Church of Jesus Christ of Latter-Day Saints announced the location of the new Lone Mountain Nevada Temple. This new temple will be built on a 19.8-acre site located southwest of Hickman Avenue between North Grand Canyon Drive and Tee Pee Lane in Las Vegas, Nevada.
In the press release the new Lone Mountain Nevada Temple is described to be built as a three-story temple of approximately 87,000 square feet. Detailed design plans for the temple are still being developed. And the exterior renderings will be made public later along with other information.
The groundbreaking date for the Lone Mountain Nevada Temple will be announced in the future as project leaders start working with city officials on preliminary plans and filing public documents in the upcoming months. This will be the city's second temple. The Las Vegas Nevada Temple has been in operation since December 1989 and sits on 10.3 acres of land near Sunrise Mountain. The other two temples in Nevada are the Reno Nevada Temple in operation since 1999 and the Elko Nevada Temple, which is currently under construction.
Latter-day Saints consider temples the house of the Lord and the most sacred places of worship on earth. Temples differ from the Church's meetinghouses (chapels). All are welcome to attend Sunday worship services and other weekday activities at local meetinghouses. The primary purpose of temples is for faithful members of the Church of Jesus Christ to participate in sacred ceremonies, such as marriages, which unite families forever, and proxy baptisms on behalf of deceased ancestors who did not have the opportunity to be baptized while living.
Read the official press release here: https://newsroom.churchofjesuschrist.org/article/temple-location-announced-in-las-vegas-nevada