More than 65 Volunteer Service Projects Completed Across Southern Nevada in Honor of 9/11 National Day of Service & Remembrance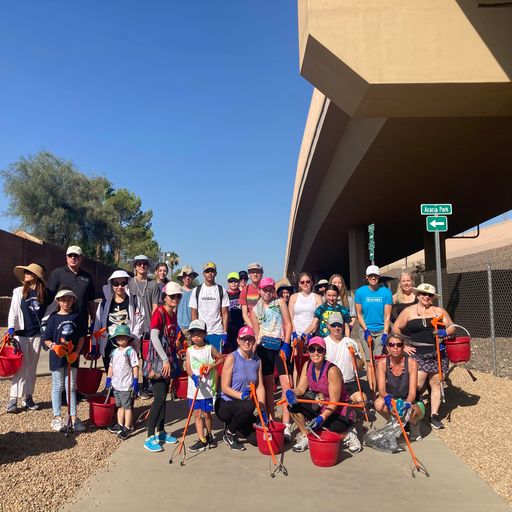 This article was contributed by a local member of The Church of Jesus Christ of Latter-day Saints. The views expressed may not represent the views and positions of The Church of Jesus Christ of Latter-day Saints. For the Church's official site, visit churchofjesuschrist.org.
September 2022
Latter-day Saints in Southern Nevada join with others giving service nationwide
LAS VEGAS – In observance of the federally-recognized September 11 National Day of Service and Remembrance, over 65 volunteer service projects were coordinated in Clark County from September 3-17. This day of service is inspired by the spirit of unity and service that arose in America, and in many other parts of the world, in the immediate aftermath of the 9/11 terrorist attacks in 2001.
Volunteer opportunities for this community-wide effort were available to all area citizens via www.JustServe.org/911dayvegas. JustServe is a website and app that connects volunteers in our community with non-profit organizations and makes it easy for anyone to volunteer in a wide range of fields.
The projects coordinated with large and small non-profit organizations, including The Salvation Army, the Las Vegas Rescue Mission, Noah's Animal House, Project 150, Baby's Bounty, the African Community Center, Shade Tree, Catholic Charities, Sleep in Heavenly Peace, and more.
Sleep in Heavenly Peace's Las Vegas Chapter was founded in 2019. Their mission is dedicated to building, assembling and delivering beds to children and families in need. Estimates are that 9,000 to 13,500 Clark County children won't have a bed to sleep in tonight. These children end up sleeping on floors and couches. Sleep in Heavenly Peace holds regularly scheduled "build days" with the goal to build as many as 50 beds in a single day. In the next month, the Las Vegas chapter will deliver their 500th bed since 2019. Local chapter co-president, Chris McDowell says, "The needs in our city are greater than I imagined when I became involved with Sleep in Heavenly Peace. We are grateful for our corporate sponsors and to JustServe and the National 9/11 Day of Service organizations for shining a light on our work." The build day was an enormous success, even in the midst of a rainstorm 44 beds were completed. The rainstorm did not dampen the volunteer's spirits.
The City of Henderson, Nevada State Parks, and Get Outdoors Nevada all posted projects to clean up trails, parks and gardens as a part of this 9/11 Day of Service. Get Outdoors Nevada's mission is to connect people of all backgrounds and ages to Nevada's outdoor areas. One of their projects included in this effort is at Rainbow Gardens. Almendra Johnson, Get Outdoors Nevada Volunteer Program Director, says, "This area is listed as an Area of Critical Environmental Concern. This project will allow us to clean and restore trails so that generations to come will be able to enjoy this beautiful natural area within our community."
Opportunity Village is ready to begin preparing to celebrate its 31st holiday season. Every dollar spent at the Magical Forest goes towards programs and services for over 3,000 people with disabilities at Opportunity Village. This year there is a need volunteers to help with painting, working in the dirt, hanging decorations and more projects. "We appreciated that JustServe provides people with an opportunity to find community projects where their volunteerism can go to work, and we look forward to working hand in hand to prepare for another great season at the Magical Forest." Director Heather Davis said. Volunteers braved the weather and rain on September 10th to hang decorations, clean up holiday trees, remove lights to allow for new lights to be strung, sorted decorations and more.
There were many other notable projects, including:
Food drives for various organizations including Street Teens
Volunteers put together 5000 Smile Kits
Organizations collected items from diapers and children's pajamas to hygiene items and ethnic hair care products
People served lunch to those experiencing homelessness
In addition, many projects were completed by volunteers at home, such as sewing duffle bags for foster children, crocheting blankets for vulnerable elderly, and quilts that were tied for our regional pediatric critical care hospital
With over 65 projects, at more than 50 locations, during the two weeks surrounding September 11, an estimated 6,000 volunteers served their community. From elderly adults and families with small children, to school clubs and businesses, each person worked to transform the anniversary of 9/11 into a day of doing good and rekindling the spirit of unity that arose in the aftermath of the September 11 terrorist attacks.