GIVING MACHINES 在拉斯維加斯開幕!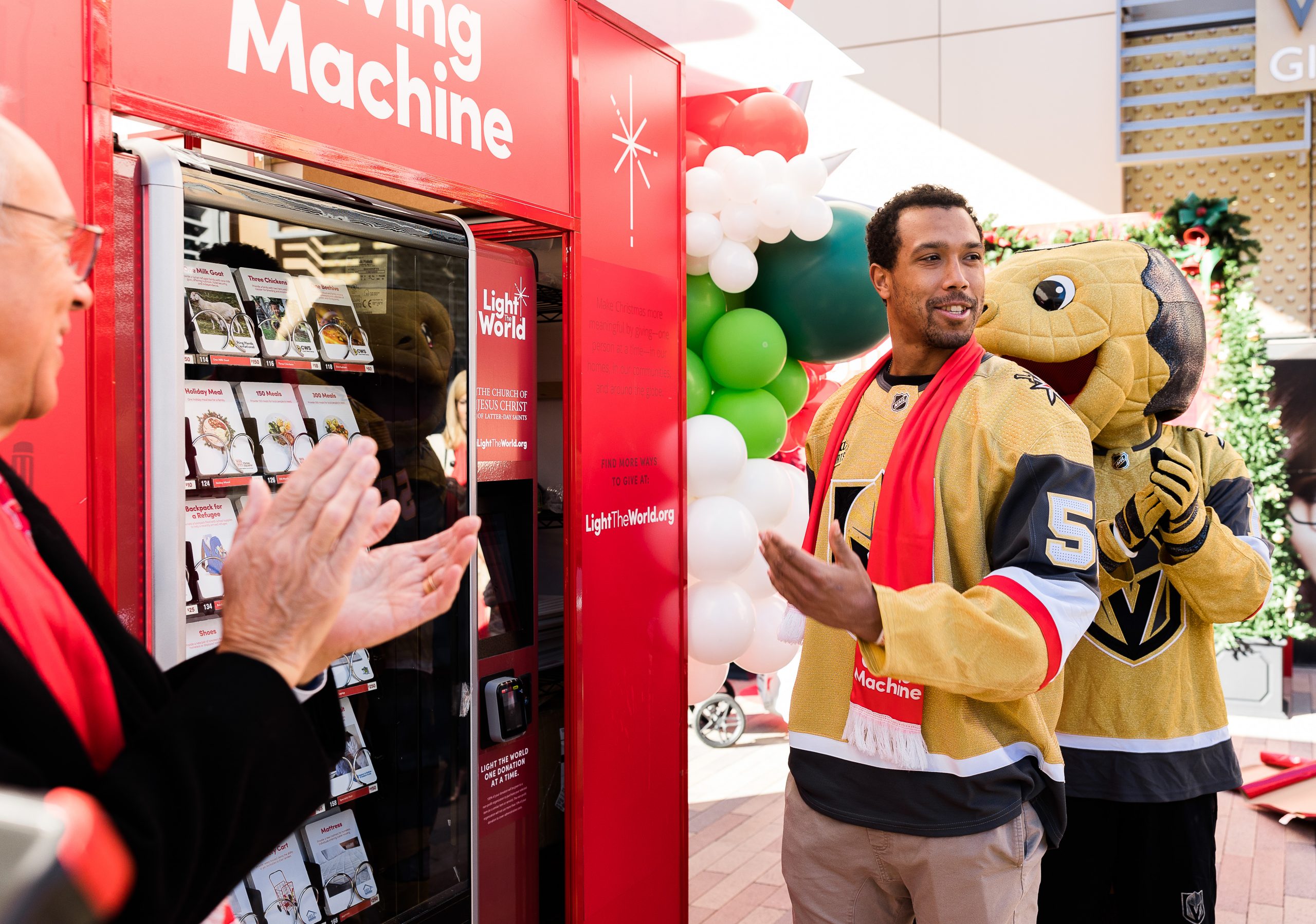 On November 16, 2022, Light the World 給予機器 opened at Downtown Summerlin. Since 2017, The Church of Jesus Christ of Latter-day Saints has organized the annual effort to help those in need around the world.
Giving Machines are vending machines with a twist: instead of getting something for yourself, visitors choose from a wide variety of items to give to someone in need. It is a simple concept that makes it easy to provide an instant act of service.
This year, County Commissioner Jim Gibson introduced the Giving Machines and Keegan Kolesar, Vegas Golden Knights Right Wing and Chance, Vegas Golden Knights mascot, to make the first purchases. Keegan was especially interested in items for youth and families and purchased shoes, underwear, take home meals, and coats.
Las Vegas Charities
The local organizations benefitting from the Las Vegas Giving Machines this year include: 天主教慈善機構, 內華達州南部的幫助, 項目 150, 三廣場和 Volunteers in Medicine of Southern Nevada.
Global Charities
This year's global charities include  Church World Service 和 舉手國際.
Items for purchase are available for all budgets. Items range in price from $5 to $250 and include staples such as take-home meals for kids or a holiday meal for a family, school supplies, and a variety of medical services.
Other donation opportunities include bus passes for those needing transportation to medical care, shoes and coats for disadvantaged high-school students, and food for the pets of homebound senior citizens. There is even a beehive that can be purchased to help global refugees produce honey as an ongoing source of income.
One of the most unusual and magnificent things about Giving Machines is that 100% of the donations made to the local charities will go directly to these organizations – the money stays right here in our community.
Every donation to the Light the World campaign is an act of love and compassion that shows refugee families they are not alone this holiday season. Giving Machines will provide people all over the world the opportunity to act on the values they hold dear and make a meaningful impact in lives of families who need our support most. The Giving Machines will be at Downtown Summerlin until January 1st.
訪問 給予機器 to learn more and see more photos from opening day!